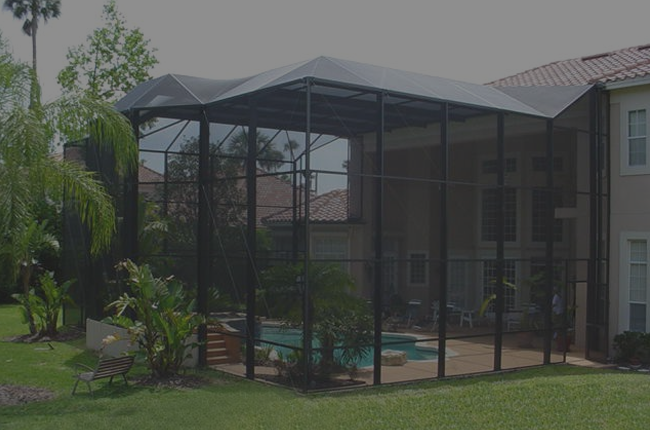 Creative Cottages, Inc., Naples, Fl specializes in designing and building beautiful screen enclosures to expand your enjoyment of your outdoor living spaces. With our many satisfied customers, you can feel confident in getting a beautiful finished project with 100% complete satisfaction.
Creative Cottages, Inc. offers custom screen enclosures, best installed, and best backed warranty in the business. All services are executed to the exact specifications of our customer's request. Our customers are able to enjoy affordable home improvements, which allows Creative Cottages, Inc. products and services to set the highest standard of quality and craftsmanship.
COMMERCIAL AND RESIDENTIAL
Complete Pool Enclosure Re-Screening, Legal and Insured. Does your Screen Enclosure or Patio Enclosure look old and need attention?
OUR SERVICES:
Re-Screening of Pool Enclosures, Porches and Patios
Re-Screen Sliding Doors
Replace Door Handles/Pumps
Contact Us Today
Or Call Us At: 239-250-2095
We offer an array of screening services including pool enclosures, patio enclosures, re-screening and much more. We provide free estimates for customers. Our sales personnel will meet with you at your home by appointment to assess your needs and answer questions regarding products and prices. The best part is all work is guaranteed.
SCREEN ENCLOSURES:
We repair any type of Screen Enclosure for you. Our prices are affordable and with top quality repairs using the best materials.
Single Screen Panel Repair
Screen Door Hardware Replacement
Rusty Screw Replacement
Stainless Steel Screws
Screen Enclosure Rescreening Repair
Patio Screen Repair
Rescreening Porches
Pool Cage Screen Repair
Lanai Screen Repair
Full Rescreens
Pool Cage Screen Restoration
Gutter Leak Repair
Pool Cage Painting